Last week Google hosted Marketing Live 2019, a big focus during the 2 day event was on creative. Google introduced a series of new features and tools in ad innovation. These new features include Discovery ads, app deep linking and the new Google shopping experience. Here at mediate.ly we are constantly looking for new and innovative ways to increase campaign performance and become more efficient in providing our clients the best possible ROI. We research data trends that will allow us to switch gears quickly with the least amount of disruption to overall campaign performance. One of the new announcements last week at Google Marketing Live 2019 can do just that. Discovery ads have the ability to be effective across YouTube, Gmail and Discover (the Google feed). The new audience expansion tool and smart bidding technology makes Discovery ads a new feature all Paid Search marketers will want to try.   Discovery ads Today's consumers have more interactions and touchpoints before settling and committing to that final purchase. Google is using these learnings providing consumers with the best possible experience during this journey using machine learning to serve consumers the right ad with the right content at the right time. By using a simple performance flow to reach consumers, YouTube, Gmail and Discover, Google is creating an experience that solely relies on the user journey without challenging the intent of that journey. Discovery ads are natively integrated within the user journey or what Google is calling "experience" but look and feel natural to the user. They are built with target audiences and not keywords. These few design principles will drive the success of discovery ads:
The ads should be visually consistent and should feel like it's a part of the product that the user is researching.
All discovery ads should be high quality. Google's review process will ensure assets match the standard of quality that will fit with the user journey and experience.
The ad should be relevant and focus on adding value. If an ad is not relevant and doesn't provide value to the user then it just becomes noise.
Offering control over their ads, Google provides customization on headline, description and imagery. Customization that will make the relevance factor much stronger.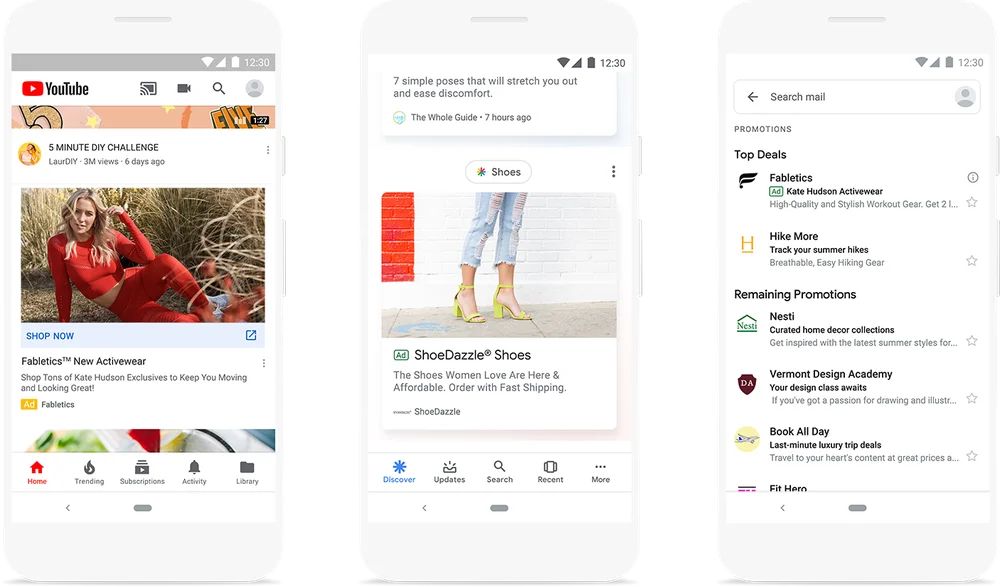 Source: Google
Once marketers follow these guiding principles, Google will find your target audience in a myriad of content across YouTube, Gmail and Discover. With Discovery ads, Google is relying heavily on machine learning to power the best possible experience and outcome for consumers and advertisers alike. By using audience expansion and the power of smart bidding, Google will fine tune your campaign performance. This will drive more consumers that will most likely convert, which will provide more leads and better results at the lowest cost. Google is giving marketers the creativity tools to achieve their business goals. And the exciting news for advertisers is that Google pairs your brand in the user journey showcasing their message in the most natural way. It moves advertising out of the realm of just being an ad and becomes part of the overall user experience.   Gallery ads Google also unveiled their new Gallery ads which lets you show off more content in just one ad. The ads can be used to improve brand awareness or to showcase a new product line. Similar to Facebook Carousel ads, Gallery ads let you feature between four to eight photos, three different headlines and a 70 character description that is currently only available for mobile devices. This ad format takes up much more real estate and is only available on the top ad position in Google search results.  Its also competes alongside other text ads in the same auction. Google claims, on average, ad groups with one or more gallery ads have up to 25% more interactions.
Source: Google
Both Discovery campaigns and Gallery Ads will help Google shift to a better interactive visual format and will roll out globally later this year.
If your brand is not taking advantage of the latest trends in paid search, we would love to help.  Send us an email at 

hello

[at]

mediate.ly

, call 561.868.9080 or contact us.